MJ and Gerry makes it look handy in the National Pairs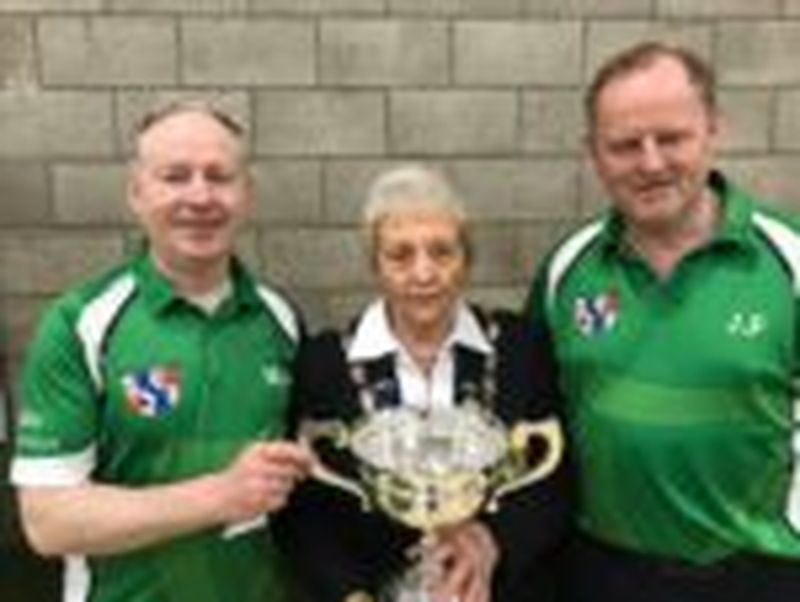 Tonight some of the cream of Oriel Pairs take part in Corduff, But even the best can be beaten as Mj O'Conner and Gerry Roe from Shercock proved in this fantastic sport of ours  
Preliminary Round
The holders Michael Hand and Jim Fox began their quest to retain their title by defeating the always dangerous John McMahon and Imelda Hanratty. Gerry McCabe and Paddy Hanlon had a comfortable victory over Conor McEnaney as did Shane Hand and Rachel Brennan over Micheal McLearnon and Patsy Burns.
1st Round
Gerry and Paddy continued their good form with a close fought contest against Diarmuid McMahon and Sean Conlon. Micheal and Jim pulled it out of the bag to win 10-9 against Patricia Hanlon and Alo McGrath. Gerry Roe and Mj O'Conner began their amazing run with an easy victory over Colin Hanlon and Seamus Murnaghan. Jason and Niall eased passed James Sweeney and Catherine Martin. Sean Conroy and Fra Dillon had a good tussle with Leo McGlew and Pearce Callan but ended up winning by 3
2nd Round
The tie of the round was undoubtedly Gerry and Paddy against Kiddo and Fra. With 2 ends to go Sean was 2shots up and Gerry unluckily dropped 1 in a tape. The lead of 3 was to much as the Redeemer pair moved on to the Quarter final.  The suprise of the round came when Gerry and Mj beat Jason and Niall by 1. This however would only be the beginning of a run of Corduff pairs that Gerry and Mj would beat. Shane and Rachel continued their recent good form by beating Thomas and Mary. Michael and Jim would have it a bit easier this round beating recent National Singles Qualifier Colm Minnock.
Quarter Final
Another tantalizing game saw almost a repeat of last years overall final (with the exception of Kevin Conroy).Nothing could separate either pair and with the jack sticking out Sean fired with his last bowl but missed to leave the holders through to the last game of the night. But who would they face. Would it be Michaels son Shane or could Gerry and Mj knock out anothe Hand pairing. The answer was decided in the middle of the game when Gerry and Mj picked up a count of 3 and 4 and ended up winning with an end to spare.
Semi Final (Last game of the day)
The question on everyone's lips was could Gerry and Mj continue their victories over the hands or was this one game to far against the current champions. It looked grim for Gerry and Mj as Micheal ran into a 6-1 lead, but their never say die attitude was not to be undone, as they fought back to 7-6 up last end. Gerry and Mj managed to get shot and claim a remarkable hat trick of victories over the Hands.