Oriel reclaim Top Team Event in Dominant Style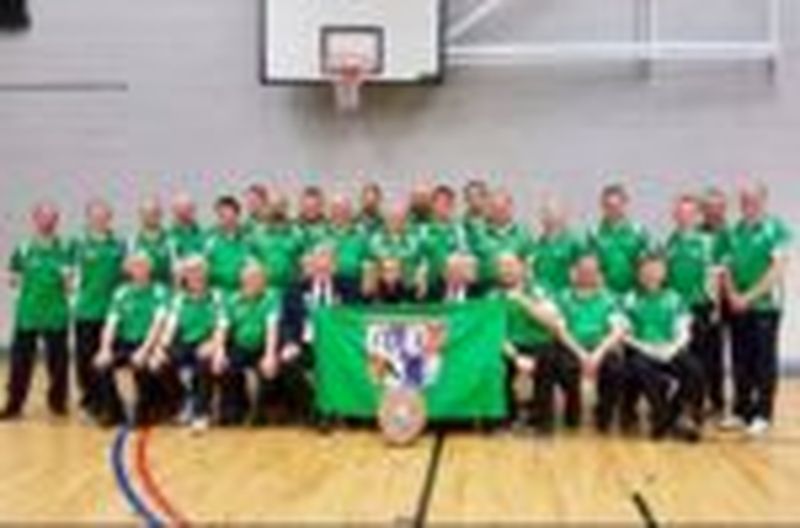 After the lows of last years defeat, Oriel Zone went into the Top Team Event hungry for revenge. Once again they came up against Pembrokeshire and the current holders the West Midlands.
Oriel began their 2 day venture of reclaiming the top team event for the 4th time against Pembrokeshire in the individuals
9.45 Saturday Morning Oriel v Pembrokeshire
In the singles Niall Hand put on a masterful performance against the dangerous A Hudson to win 14-10 and the semi-retired Kevin Conroy took care of A Evans 17-11. The biggest margin of victory came in the Pairs when Seamus McParland and John Murnaghan won 24-3 against G Davies but the pairs also became our first loss of the day when reigning National Champions Jim Fox and Michael Hand lost 10-16 to C John . The trips saw another big victory with John McMahon, Sean Trainor and Gerry McCabe beating K Symmonds 28-8. The trips also gave the closest match of the round, with Aidan Conroy, Sean Conroy and Paul Duff losing 9-10 to J Gladstone. The Rinks were both comfortable victories with Anthony Reel, Jason Hand, Conor Mackin and Paddy Hanlon winning 14-5 and Noel Mackin, Sean Traynor, Kieran Trainor and Stephen McMahon winning 13-2 against J John Davies and B Williams respectively
11.15 Oriel v West Midlands Individuals
The Singles saw Niall Hand involved in a titanic tussle with R Dunkley eventually winning by 17-16. Gerry McCabe was also in a ding-dong battle with C Strong with the Englishman winning 12-14. The pairs faired the same with both teams splitting the points. Thomas Martin & Paul Duff lost 6-12 to C Willies and S Traynor and M Hand won 16-11 against L Folis. The triples followed in the same footsteps as the pairs and singles with 1 win 1 loss. The 3 Conroys winning 17-4 against S Folis while Micheal Savage, Kieran Trainor and John Murnaghan narrowly losing 10-12. The Rinks bucked the trend when Oriel claimed victory in both. Diarmuid McMahon, Jason Hand, Conor Mackin and Paddy Hanlon scraped over the line 12-11 against J Hale. John McMahon, Seamus McParland, Sean Trainor and Stephen McMahon also had a close match by beating M Harvey 7-5.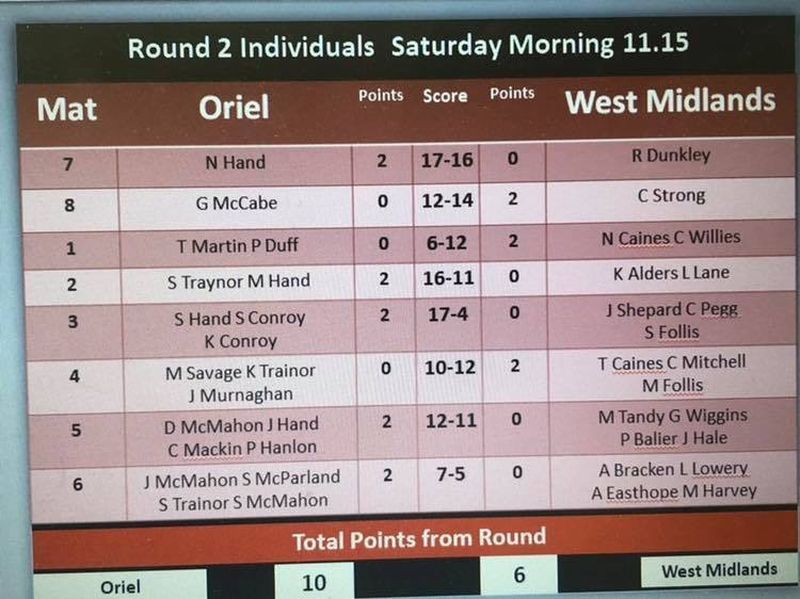 West Midlands v Pembrokeshire Indiduals
West Midlands again showed that last year was no fluke by claiming 10points. Against Pembrokeshire. The singles again looked Strong (Pardon the pun) by claiming 2 victories. But the other 3 disciplines ended up splitting the points.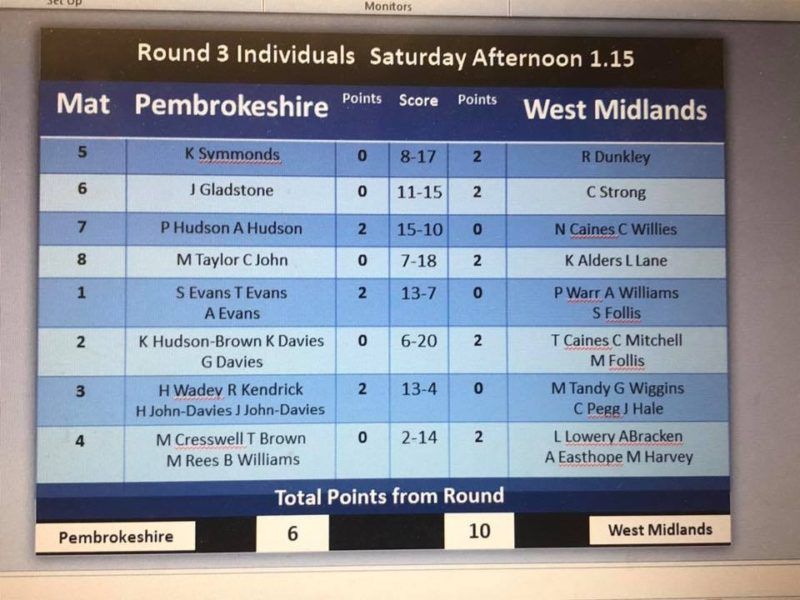 So after the first run of individuals Oriel looked in promiisng position with the team event about to start
Oriel v Pembrokeshire Team Event
With 12 points to play for and 6 for the overall Oriel felt that this is were the Event could be won or lost.
Gerry Mccabe never looked in doubt on mat 1 against J Gladstone winning 13-4 but the same could not be said for mat 2 were Stephens rink was struggling against A Hudson and in the end lost 4-11. Paddy Hanlon continued his winning ways in the Rinks this time beating A Evans 13-4. Niall Hand had the biggest win of the round by a long way beating G Davies 25-6. Paul Duff was again involved in a close match and nothing could separate him and K Symmonds at 7-7. John Murnaghan has a much easier affair comfortably winning 15-1 against JJ Davies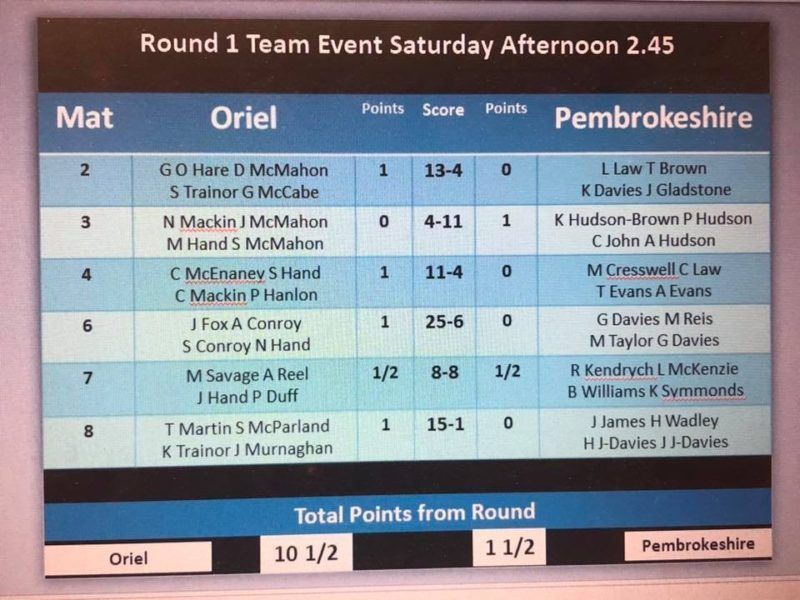 West Midlands v Pembrokeshire Team Event
A dominant display by West Midlands saw them get within touching distance of Oriel by winning 5 of the 6 matches and drawing the other to claim 11 1/2 points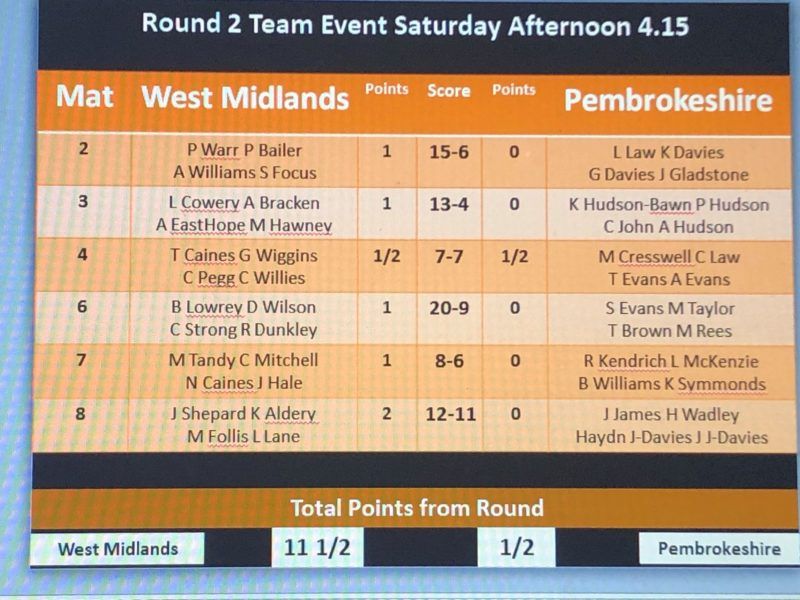 Table after day 1 and all to play for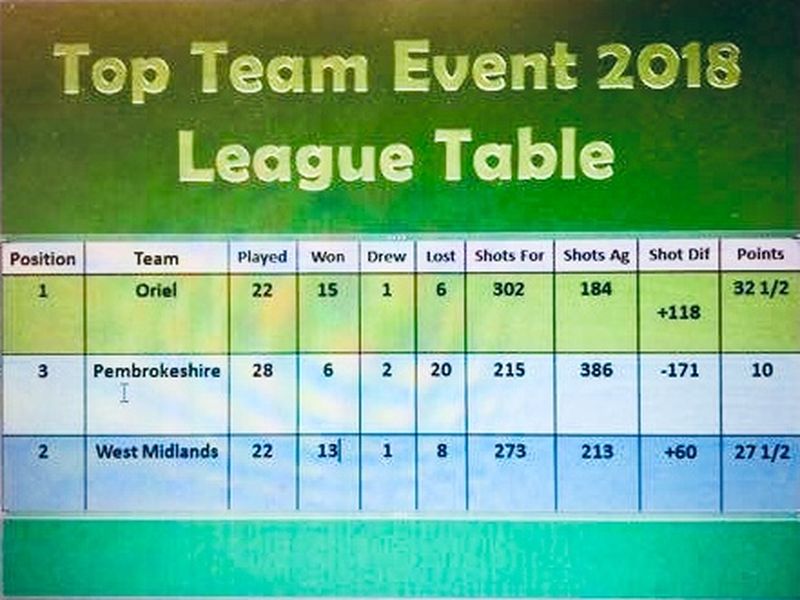 Day 2
Oriel v Pembrokeshire Indivduals
Niall Hand had his first defeat of the weekend in the singles to A Hudson losing 8-20. Sean Trainor countered this loss with a 20-5 victory over G Davies. Shane Hand and John Murnaghan were involved in a close affair winning 16-12 against C John. Diarmuid McMahon and Jason Hand had an easier contest winning 18-5 against M Taylor. Gerry McCabe (playing with Micheal Savage and Fra Dillon) rebounded from his loss in the singles yesterday to win 20-7 against J Gladstone. The other trip of Jim Fox, Kieran Trainor and Stephen McMahon had a much closer game narrowly winning by 2. Paul Duff (with Aidan Conroy, Sean Traynor and Michael Hand) claimed his first victory of the weekend by beating JJ Davies 9-5. Paddy Hanlon (with Ronan Hanlon, Conor Mackin and Sean Conroy) continued his winning ways with his 4th victory in a row in rinks, this time taking out K Symmonds 17-1. An incredible 14pts claimed but it would all be in vein if Oriel lost to West Midlands in the Team Event.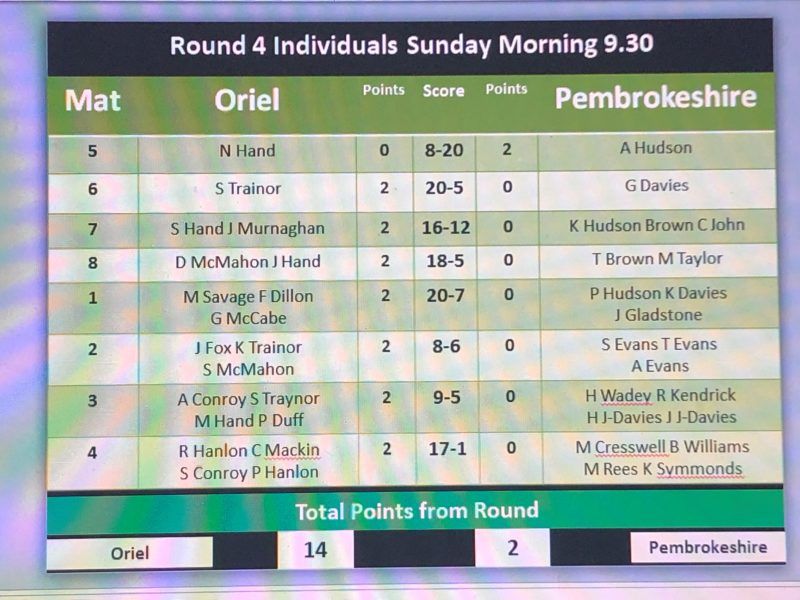 Oriel v West Midlands Team Event
What a performance from Oriel in what would prove to be the nail in the coffin for West Midlands bid to hold on to their title. Niall Hand disposed of S Follis 9-4. Paul Duff had a comfortable victory over M Hawley 11-2. P Hanlon fared something similar with a 10-3 victory over C Willies. Stephen McMahon had the closest match of the round against the English Champions but in the end won 9-7. John Murnaghan was repeating his Larne form, by J Hale 12-6. Finally Gerry McCabe an easy 12-3 victory. An incredible performance from every single individual to claim a whitewash 12-0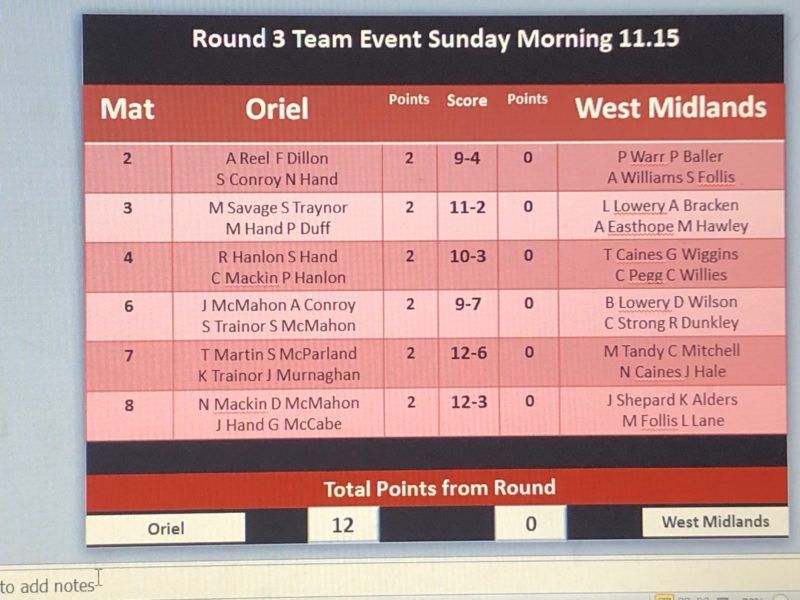 West Midlands v Pembrokeshire 5th Round Individuals
West Midlands had a mathematical chance of still claiming victory if they won every match in this round and the last. There dream soon ended when they lost in 1 single and 1 pair. This left Oriel as champions with a round to spare.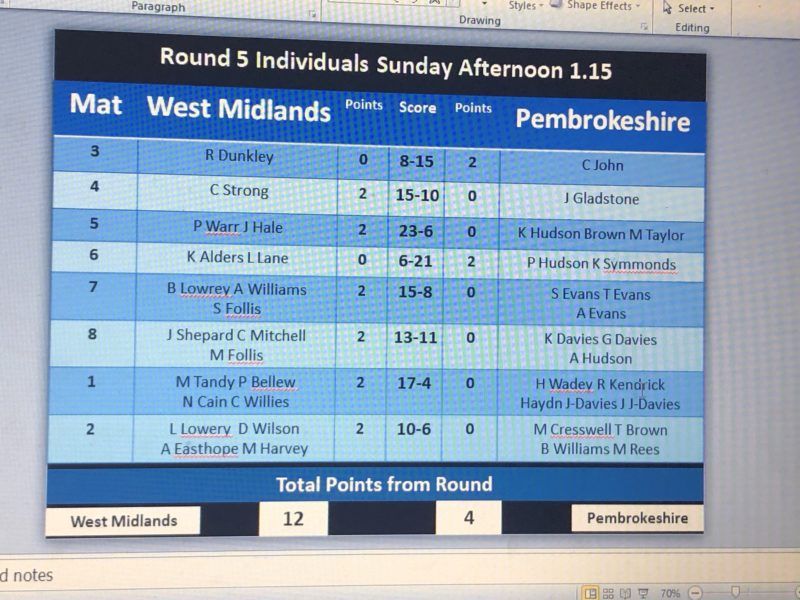 Oriel v West Midlands Individuals 6th and Final Rd
Oriel went into the final Round all ready as the champions but it was now a matter of how many they would win by. The answer was emphatic, with Oriel claiming another Whitewash. In the singles Sean Trainor raised the roof against his long time friend C Strong, winning 16-5. Shane Hand, who took his brothers place in the singles played sensational winning by 15-8. Ronan Hanlon and Stephen McMahon turned on the style to win 22-7. Jim Fox and Paul Duff kept the whitewash alive by winning 14-12. John McMahon, Anthony Reel and Sean Traynor blitzed their opponents 25-3. Noel Mackin, Kieran Trainor and Fra Dillon was close for a long time but eventually won 14-10. C McEnaney, Seamus McParland, Sean Conroy and Paddy Hanlon ran out 11-4 winners. This win by Paddy meant joined Sean Trainor with 6 wins from 6. Finally Thomas Martin, Michael Savage, Jason Hand and Gerry McCabe 12-2.
Final table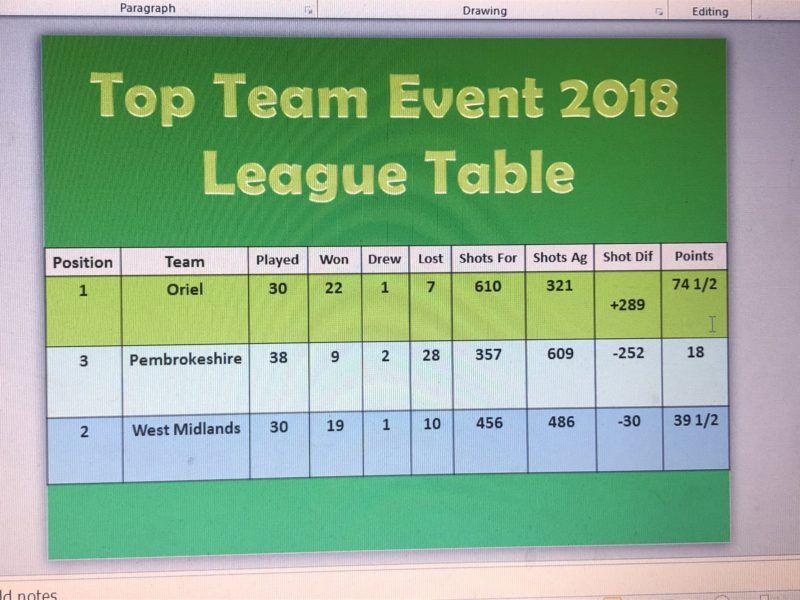 Oriel would like to thank Pembrokeshire and West Midlands for a sporting, friendly and enjoyable weekend. We would also like to thank the umpires, the caterers, Newry and Mourne Council and of course Ballyholland for use of the hall.