Anthony Reel claims his first singles by winning Geraldine's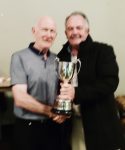 Geraldines Singles Tournament came to a close on Friday the 28th of September. We had 8 different clubs represented in the final. Dermie McMahon, last years winner,  came up against former winner Cecil Dillon, with Cecil running out a 9-6 winner. Eanus Hamilton was defeated by Anthony Reel.  Eugene Callan, who qualified for his first ever singles lost to Peter Byrne aclint. In the last quarter final Thomas Gartlan beat Jim Harmon.
At the semi final stage, Peter Byrne continued his remarkable run to his first ever final, by beating Thomas Gartlan. In this he would face Anthony Reel who scraped past Cecil Dillon by picking up a count of 4 in the last end to win by 1
The final was a tight game throughout with  Anthony getting the run of the mat to claim his first ever Singles win.
The Brian and Annie Renaghan cup was presented to A.Reel by Tommy Renaghan. The Geraldines bowls club, would like to thank the Renaghan family for their continued support of our tournment and all the clubs who supported us.